Fire Damage Restoration in Cincinnati, Ohio
Restoring your Cincinnati home or office after a fire is our business. We know that you need to feel safe and to know that your property value has been restored. When you have fire damage, Cincinnati, Ohio's restoration expert, Tri-State Restoration Services will take care of the damage and get you back on your feet.
When you have a fire in your Cincinnati home or office, the damage can be devastating. Furthermore, fire damage can compromise the structural integrity of your building and put you and your family or co-workers at risk. Tri-State Restoration Services takes care of the damage control when you need it most.
Call Tri-State Restoration Services, Cincinnati's fire damage restoration expert: (513) 277-0857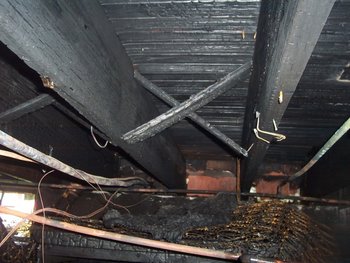 Tri-State Restoration Services makes your safety a priority
24/7 emergency service in Cincinnati, OH and surrounding towns
We get to you quickly because we service the Cincinnati area
Ensure that your building is structurally safe
Provide temporary electrical service
Provide emergency board up service to protect your property from further damage or vandalism
Provide power generators
Tri-State Restoration Services has been providing professional fire restoration services in Cincinnati, Ohio for 17 years. We conduct thorough inspections for common causes of fires, including:
System Malfunctions
Fire damper & smoke dampers
Oil burner
Creosote buildup in chimney
Electrical Problems
Loose or frayed cords
Inadequate wiring that is not up to code
Overuse of extension cords
Overloaded outlets
Electrical wires run under rugs or furniture
Improper Storage or Placement
Improper storage of flammable liquids, including: fuels, solvents, cleaning products, thinners, adhesives, paints

Improperly placed portable heaters
When disaster strikes, call (513) 277-0857 for quality fire damage restoration services in the Cincinnati area
Tri-State Restoration Services's

expert carpenters and craftsmen repair all structural surfaces with high quality materials
Professional carpet & upholstery cleaning
Restoral of electrical service
Thorough wall and ceiling cleaning
Soot removal from hard surfaces, including brass, aluminum, chrome, marble, tile, and porcelain
Environmentally-friendly deodorizing to eliminate smoke and fire odors
Serving Cincinnati, Ohio customers since 2001
---
Call for FREE Fire Damage Restoration Quote
Dial Area Code first please.
---
WHAT CUSTOMERS ARE SAYING:
5 ★★★★★ - "Well let me tell you Our experience was probably the best you can get with the situation. I speak highly of Ron and the guys to everyone I know. Everyone who has seen the work they did in the before and after photos just can not believe it. The outcome speaks volumes of the kind of business they operate. Have to say, they are just the best,"

NUMBER 1 FAN in Crescent Springs, KY

5 ★★★★★ - "AWESOME ! Well let me tell you Our experience was probably the best you can get with the situation. I speak highly of Ron and the guys to everyone I know. Everyone who has seen the work they did in the before and after photos just can not believe it. The outcome speaks volumes of the kind of business they operate. Have to say, they are just the best, I appreciate their honestly and hard work."

Evelyn S

5 ★★★★★ - "I would like to say that these were the hardest freakin working guys I ever seen, very polite, very dedicated and the work was not easy required a company that absolutely knew what they were doing to do it right and did leave my house in living condition while they dried out the water, the removal process of the old wet stuff (my gosh)to get it dried and salvageable or dispose of the stuff, was outstanding. The owner worked directly with me and with my insurance and saved me a lot of time I did not have. thank you all. lifesaver best"

Richard in Hamilton, OH

★★★★★ - "I wrote reviews and they are gone. The experience I had was amazing. I just can not give enough praise to the crew and the owner. Best group of people I have ever had do work for me ."

Yolanda in Batavia, OH

★★★★★ - "WE HAD STUFF THAT LOOKED LIKE MOLD. SMELLED BAD AND WAS SCARED FOR MY FAMILIES HEALTH. WE JUST NEEDED TO HAVE IT TESTED AND REMOVED. THE ASSURANCE OF KNOWING THESE TOXINS ARE REMOVED WITH HIGH LEVEL OF QUALITY TESTING AND STATE OF THE ART EQUIPMENT ASSURED ME WE CALLED A TRUSTED COMPANY AND IT WAS WELL WORTH IT. MIGHT ADD, THAT THEY WERE AWESOME, EVERY STEP. "

VELMA WALKER in Florence, KY

★★★★★ - "I just can not say enough thanks for the excellent care and professionalism you guys gave me. I am a somewhat skeptical person and non-trusting so I hesitated to get help for myself in my home with my mold situation. I was completely assured this would be handled at a reasonable cost and professionally done and yes, every bit of the work done was exceptional. I have some new friends now and will recommend your company any day of the week. Amen to that. "

Jack Hellman in Clifton, OH

"The damage we had from the hard rain needed immediate water removal and repair. Thought everything would be a total loss. But, it was not because they got here so fast. The owner understood my financial situation and happily helped with my deductible. Gave me a more than fair cost. The job they did was just completely exceptional and professional. Yes, I highly recommend."

Mary Burke in Dent, OH

"They were very polite and knowledgable. They worked hard and did not stop until they had things in a safe working condition. For such a big job, we were amazed on how quick they got it done. It looks great and we will recommend you to others."

Scott & Karen Hahn